Get out of your comfort zone and improve the romance between you and your partner with the one-of-a-kind "Romantic Night" Scratch-Off Couples Game!
This unique game idea helps you increase your sex game and show your partner just how determined you are to keep things exciting. Whether you're an amateur or pro in the sex department, the Romantic Night couples game is for everyone of legal age and engaging in sexual activity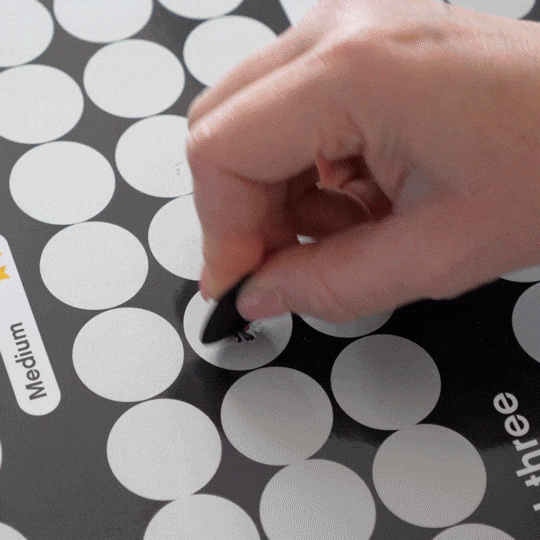 With Romantic Night, you can discover intimate things you never knew about yourself and learn your most pleasing ways to get satisfied with your partner. You'll never know what you're going to scratch off next in this exciting game - is it going to be in the bathtub? On a chair? In the car? It's up to you to find out and then take on the challenge!
Fun Leveling System
If you're always doing the same thing, it becomes boring. With Romantic Night, it encourages you to try different locations, poses, toys, and interactions to advance in the unique level system we've created with points. Put in your full participation and efforts to earn achievements and upgrade your status towards the ultimate "Guru" master. At the same time, you're also increasing the sexual pleasure and satisfaction in your relationship, so you're winning the game and the love of your partner!
Discover new heights in your intimate relationship and expand the love like never before with Romantic Night. Order now and experience a more fun and spontaneous relationship!

● Unique & exciting game or gift idea
● Experience a more fun & spontaneous relationship
● Improve the romance between you & your partner
● Varying levels, locations, interactions, & achievements
● Made with durable paper, cardboard, & metal


I recently purchased the Romantic Night Scratch Off Game, and I must say it exceeded my expectations. The game added an element of excitement and surprise to our date nights.
The Romantic Night Scratch Off Game has been a game-changer for our relationship. We were looking for something unique to reignite the spark and create memorable experiences, and this game delivered just that
I can't say enough good things about the Romantic Night Scratch Off Game. It has transformed our ordinary evenings into extraordinary romantic adventures. The game is incredibly well-designed, with beautifully illustrated cards that made each reveal a delightful experience
Shipping
Yes, definitely! We send orders in a white tube, the white tube will be wrapped in black wrapping film. Only the initials for the shipment will be on the film. Also the lids on the side of the tube will be wrapped with duct tape. For security. At the end we label our shipments like a normal poster. That way no one will know what's inside
Completely FREE! And we offer worldwide deliveries. We have worked hard to set up the right supply chain to provide delivery free of charge for you!
Depends on the country and the variation chosen. The shipping calculator will show you after you fill in the data. We also offer free shipping for orders over $40
Due to the unexpected success of the game, we are currently struggling with local inventory and warehouse replenishment. Kindly allow 5-14 business days for the game to arrive depending on your geographical location. The wait can be long but take our word, it is totally worth it!
Order Issues
Nothing to worry about, you are in good hands. Simply reach out to our support team with your order number and we will help you out.
This happens if your local post wasn't able to properly deliver your order. It can be because the access was difficult or simply the address was wrong. Make sure to clearly put all necessary information during the order process.
Nothing to worry about, you are in good hands. Simply reach out to our support team with your order number and we will help you out.
Simply reach out to our support team under info@romanticnight.eu or use our contact form. We will help you out with your request.
About The Game
Great question, and the answer is we will not move digital. We strongly believe that intimate moments should be experienced without screens! Isn't nice to leave your phones alone from time to time? ;)
Not yet. Romantic Night wants to be an opportunity for anyone to explore the beauty and variety of what an exchange between two people can be. Our team is currently working hard to launch an LGBT version soon! 🏳️‍🌈
This is up to you to decide! We created the game with very flexible game rules. With 104 positions, 24 different locations and 11 extra points, we believe it will keep you busy for some time!
Well, congratulations! You and your partner are now Guru